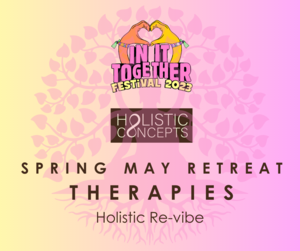 In It Together Festival 26-28 May 2023
The Holistic Concepts Festival Therapies Team are all very excited to be offering you heart felt treatments in the Spring Retreat at the In It Together Festival 2023. We have a fantastic Spring Retreat Space to come and relax and enjoy being together and get your Holistic Re-vibe on!

Experience out of this world therapies, free workshops and engage in what is meant by Ram Das favourite saying "Id rather be here, now". Get yourself fully immersed in to the present moment with astrology, yoga, mindfulness, playing with movement therapies, naturopathy and much much more. Being Present encapsulates all imaginable and fascinating about the Season of Spring and how to be immersed with your body, mind and soul.

Our Spring Retreat space is based in a beautiful Woodland Paddock at Old Park Farm. Just outside the main festival area and near the camping space, open from 8am to 6pm. Come along for breakfast, indulge in relaxing one to one holistic therapies with Holistic Concepts Event Therapies or book our free wonderful workshops to "excite you, to be you".

Book online to ensure you can enjoy a therapy over the festival in our Spring Retreat and get you Holistic Re-Vibe on!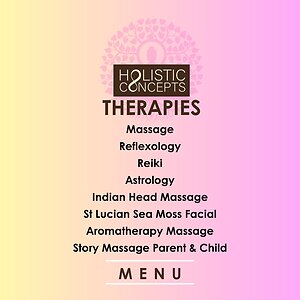 Holistic Concepts Therapies Menu
We have hand picked a team of the most knowledgeable, skilled, talented and inspired Holistic Therapists, offering you a broad range of therapies. There should be something for everyone here, we are all "In It Together".

We aim to provide excellent service and match you with the most effective therapy and therapist for you. Please see the list of therapies we're offering at the Festival and read about each talented Holistic Therapist below.

Follow Booking Link to Fresha for prices and treatment times.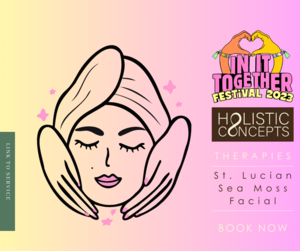 St Lucian Sea Moss Facial
The festival mastery of glowing skin!! This no mess, no fuss St Lucian Sea Moss Facial will refresh and rejuvenate your festival face in 20 minutes if that's all you've got.

It includes a mask of St Lucian Sea Moss which melts off with water. It is completed with Holistic Concepts Cosmetics Rose & Geranium face cream, naturally hydrating you. Come after your yoga or a workshop and go and put your festival make up on!

The 60 minute facials is an indulgent holistic experience, massage of your neck, shoulders and back. Let our therapist know which areas, you would like to relax and pamper the most!

This versatile facial uses the power of natural sea moss to deeply hydrate and revitalize your skin. With 97 of the 103 essential nutrients, feel refreshed and glowing after this nourishing facial- it's sure to be a highlight of your time at the festival.

Therapists; Helen Mayers, Jennie Curtis and Rachael Davies.
Book Here.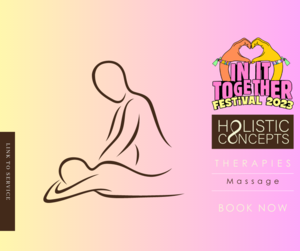 Aromatherapy Massage
An aromatherapy massage is tailored to you, a slow and relaxing massage to really relax and unwind body, mind and soul. Choose a quick 20 minutes lymphatic release session or the 60 minutes to pamper yourself and have a break from the business of the festival fun.

Aromatherapy is one of nature's gifts and we will be bringing blends suited best for spring to help you get your Spring Retreat Re-Vibe on!

Therapists; Rachael Davies, Peter Palmer, Jennie Curtis and Helen Mayers.
Book Here.
.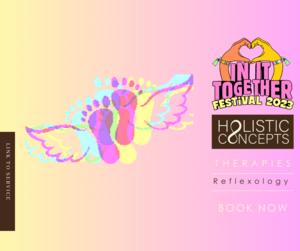 Reflexology
Reflexology is a healing practice that focuses on pressure points on the feet, hands and ears to stimulate energy flow and promote overall wellness. At the In It Together 2023 festival, you can experience the benefits of reflexology first-hand with expert practitioners offering their services. By taking part in reflexology sessions throughout the weekend, you'll have the opportunity to reduce stress and tension, improve circulation, boost your immune system and enhance your body's natural ability to heal itself. Experience this ancient practice for yourself at In It Together 2023!

Therapists; Helen Mayers, Rachael Davies, Jane Harris, Jennie Curtis and Jane Baker.
Book Here.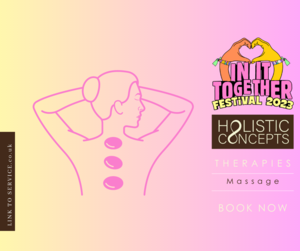 Aches and Pains Massage
Are you excited for the In It Together 2023 festival? While festival is a great way to have fun and let loose, they can also lead to muscle aches and pains. Lucky for you, the festival is offering aches and pains massage services to help alleviate any discomfort, so you can go and enjoy yourself. These massages will be provided by trained professionals who specialize in deep-tissue massage techniques. You'll get to relax in a peaceful environment while having your muscles worked on by skilled hands. So don't let aches and pains hold you back from enjoying the festival - book in and get your Holistic Re-Vibe on!

Therapists; Rachael Davies, Jennie Curtis and Peter Palmer.
Book Here.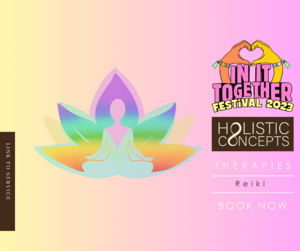 Reiki
Reiki is a form of alternative therapy that originated in Japan. In a reiki treatment energetic imbalances are identified through the body, with the aim of aligning your 7 major energy chakras and cleanse your aura. Helping you to heal and restore your energy systems.

It involves the use of a practitioner's hands to transfer healing energy to the patient, promoting relaxation and balance in the body's energy centres, known as chakras. Reiki is a great way to reduce stress and feel physically and emotionally well. Ultimately reiki will leave you relaxed, to every cell in your body. You can float away beautifully, back to the festival, with an incredibly satisfied feeling.

Jane Baker and Jane Harris are energy practitioners, Brett Summers and Rachel Davies are Reiki practitioners. Very similar modalities to enjoy and largely practiced in the same way.

Therapists; Reiki Rachael Davies.
Energy practitioners Jane Harris and Jane Baker.
Book Here.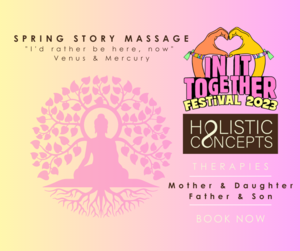 Astrology Story Massage for Mother & Daughter | Father & Son | Couples | Friends
Pamper together with our unique woodland retreat experience.

"I'd rather be here, now" Venus & Mercury Spring Story Massage
Our story massage takes you on a journey around being present in the moment and time, with everything that may encapsulate.

As you both relax with a treatment of your choice with Holistic Therapists Helen and Jenni; massage, Indian Head Massage, Reflexology, Reiki or our St Lucian Sea Moss Facial, you can unwind whilst Holistic Therapist Helen narratively takes you both on a relaxing journey around the astrological universe, relevant to the weekend. Focus is on Venus, the planet of love and mother earth and Mercury, the planet of communication and empathy. The story then moves to the season of spring, how the natural cycles of our earth warms up and nature begins to bloom in colour, as flowers grow and open. What foods are good to eat in spring and how seasonal eating helps your body, mind and soul be present.

For those of us who are young at heart, adults can book this as a couples or friends treatment. Sessions are 30-45 minutes long and are a real treat to your physical, mental and emotional well-being, relaxing your body, captivating the imagination and feeding your soul.

Therapists; Helen Mayers and Jennie Curtis.
Book Here.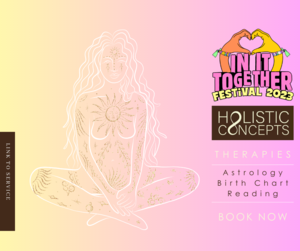 Astrology
Astrology is an ancient practice where science and art dance together, with every atom in the universe. Astrology was practiced in most major civilisations; Inca, Maya, Egyptian, Greek and Roman periods.

The time and place of your birth will resonate uniquely and continuously with momentary astrology, as it moves through cycles and ages in time. Beth introduces the dominant planets in our solar system during the festival; Venus, the goddess of love & empathy with Mercury, the planet of mind, communication & empathy in a free workshop.

To find the personal meaning to you, take a deep dive into your birth chart, exploring your personality traits, potential challenges and opportunities for growth. Book a birth chart reading with Beth and enjoy a new outlook on your life. Beth will help you tap into the wisdom of the astrology and energetics as powerful ancient tools to provide you with clarity, focus & direction.

Therapist; Beth Woodward.
Book Here.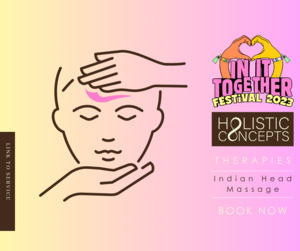 Indian Head Massage
At the In It Together 2023 Festival, you can experience the magic of the ancient practice of Indian Head Massage first-hand. Our experienced and talented therapists will work on your back, shoulders, neck and head using gentle pressure and rhythmic massage to soothe away tension and promote deep relaxation. You'll leave feeling balanced, refreshed and rejuvenated, ready to carry on enjoying the festival.

Indian Head Massage is a traditional form of massage, practiced in India for centuries. It is believed to have a number of physical and mental health benefits, including reducing stress, improving circulation and relaxation.

Therapists; Helen Mayers, Jennie Curtis and Rachael Davies.
Book Here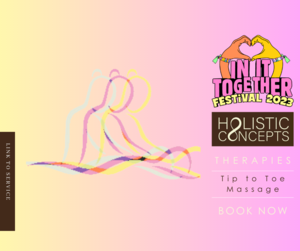 Premier Tip to Toe Massage
The In It Together 2023 festival is just around the corner, and we're excited to announce our premier tip to toe massage. Festival-goers can indulge in a full-body massage that will leave you feeling refreshed and rejuvenated. Our skilled massage therapists will use a combination of Aromatherapy, Swedish and deep tissue techniques to target areas of tension and release muscle knots. So why not take a break from dancing the day away and treat yourself to some serious you time? Book your indulgent Premier Tip to Toe Massage, at the In It Together 2023 and start looking forward to your, you time!

Therapist; Rachael Davies and Peter Palmer.
Book Here.


Reviews from 2022
Featured in the Guardian, Culture Magazine Saturday 25th of June 2022

As a great fun way to end the festival, we were interviewed by Guardian reporter Rhik Samadder and photographer Alicia Canter. After their six festivals in one weekend, exhausted reporter Rhik and photographer Alicia captured a few blissful moments of needed rest and relaxation. They recouped by enjoying a treatment in our comfortable snug canvas bell tent, out of the rain. Both Rhik and Alicia were great fun to be interviewed by and we hope they come back to the In It Together Festival in 2023!

Read more here.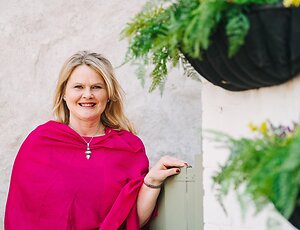 Jane Baker, Reflexologist & Coach
Jane runs her own business Step to Health, from Porthcawl. She is a clinical reflexologist (MAR), reiki and energy healer, transformational coach, NLP Master practitioner, hypnotherapist and belief coding facilitator who combines a wealth of 25 years worth of experience to help her clients connect their mind and body together in order to heal both physical and emotional blocks so that they can live a healthy and empowering life.

She works intuitively with a variety of clients from midwives to busy professionals to integrate different therapies and treat conditions such as stress and tension, insomnia, sciatica and back issues, frozen shoulder, hormonal imbalances, fertility, constipation, IBS, migraines, circulatory problems and so much more. In her spare time, she can be found on the beach or up a mountain with her family and much loved dogs.

Book Reflexology
Book Reiki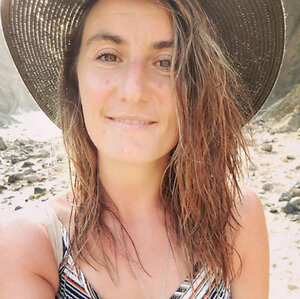 Beth Woodward, Astrologist
Beth is a personal and business astrologer, intuitive energy coach, and creative soulpreneur. Astrology and energy work have been instrumental in Beth's journey towards healing and finding her soul purpose.

She is passionate about helping people discover their unique soul blueprint and activating their highest potential. At the retreat, Beth will give a talk on astrology relevant to the festival weekend. She will explore how astrology relates to being present and aligning with our highest potential in the spring season.

Book Astrology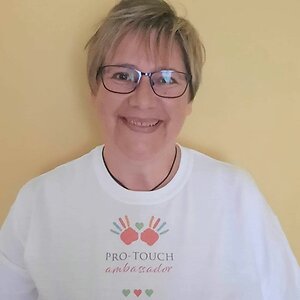 Helen Mayers, Holistic Therapist
Helen became a Holistic Therapist in 2005, she runs a successful business Becalm Relax, in Aberkenfig.

Helen has a passion for her work and is always striving to learn more. She began working at a special needs school and over the years have integrated in to her therapy aspects of sensory, communication, behaviour management and educational skills. Helen gives a lot to her community and thrives on helping children with special needs. She has been awarded The Best Practice award for Story Massage.

Helen will be providing massage and Indian Head Massage over the festival weekend from 8am to 4pm Friday, Saturday and Sunday.

Book Indian Head Massage
Book Reflexology
Book St Lucian Sea Moss Facial
Book Story Massage Massage
Peter Palmer, Osteopath
Peter has been an Osteopath for over 25 years running his own practice in Cardiff and has lectured in Swansea University. Peter has an initial degree in Biochemistry to combine with his wealth of knowledge and experience as an Osteopath. Peter is a therapist not to be missed in the Spring Retreat. Peter is also one of the founders of the Carten 100 cycling event form Cardiff to Tenby and has raised a significant amount for charities over the years.

Book Aromatherapy Massage
Book Aches and Pains Massage
Book Premier Tip to Toe Massage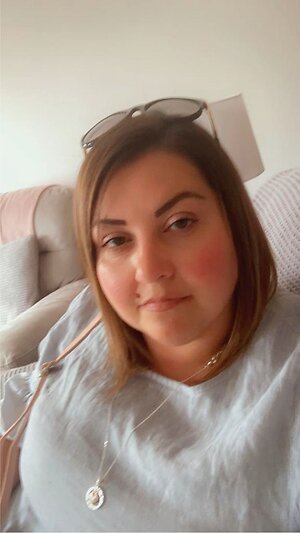 Rachael Davies, Holistic Beauty Therapist
Rachael has been a Holistic Beauty Therapist for 17 years, she runs her own business Holistic Beauty. She is passionate about her work and offers natural beauty therapies. Rachael will be providing Aromatherapy, Reiki, Reflexology, facials and Indian head massage from 8am to 4pm Friday and Saturday.

Racheal is a wonderful local therapist and an absolute pleasure to have on the team, she strives to offer natural beauty options to clients, in this modern world. Book in with Rachael for a treat at the festival and a wealth of knowledge, of how to look after your beauty naturally.

Book St Lucian Sea Moss Facial
Book Aromatherapy Massage
Book Aches and Pains Massage
Book Premier Tip to Toe Massage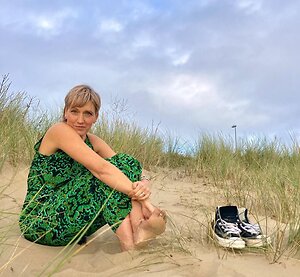 Jane Harris, , Reflexologist & Coach
Jane is a qualified clinical reflexologist and energetic medicine practitioner. Her practice 'Find your Balance' enables Jane to support others on their souls journeys. Jane is fuelled by her passion surrounding the healing powers of touch and the importance of finding balance in our lives.

Jane will be delivering reflexology and energetic healing, to support you to regain balance and free up stagnated energies in your mind, body and soul.

When not in the In It Together Spring Retreat Jane can be found working in her clinic delivering workshops in local soul sister circles, the healing fields of festivals or collaborating with other therapists to deliver larger scale healing retreats and events.

Book Reflexology
Book Reiki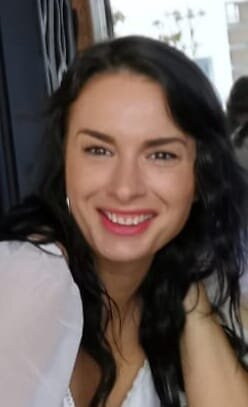 Jennie Curtis, Holistic Therapist
Jennie is a holistic therapist with a wealth of experience and talent as a therapist. If you're looking for a massage that will relax you, ease your tension and soothe your soul Jenni is the therapist for you. During the festival Jennie will be providing massage, reflexology and Indian Head Massage. Book in and thoroughly enjoy relaxing.

Book Reflexology
Book Indian Head Massage
Book Story Massage Massage